Pressure vessels, prefabricated piping, reactors, heat exchangers, columns and process modules. - To be the most trusted partner and best supplier of Customers.
Turbine auxiliary equipment & structures including steel components for steam and gas turbines, intake & exhaust system for gas turbines, WHRU, etc. - Excellent sustainable EHS performance.
As a Tier-One supplier to several multi-national Corporation and Engineering Company, we are committed to continuous improvement of quality and deep understanding of different standards. - Quality is our Reason for Existence.
넳
넲
Materials are a key factor in product compliance. All design codes have "approved" materials listed or referenced, including pressure equipment, machinery, other equipment, etc. Thus, the basis for design is always a system which includes design formulas, materials, as well as manufacturing and testing requirements.
NAMAG provides the adaptability to meet our customer's specific welding and special requirements. With extensive experience and knowledgeable Manufacturing Engineers, we are considered as a valued supplier of important weldments with high requirements to numerous industries worldwide. We are qualified to perform different welding standards to a wide variety of material groups in accordance with ASME Code, European EN standards, Chinese GB standards, etc.
Materials Welded
These products are generally made in carbon steel, low alloy Steel (Cr-Mo), austenitic stainless steel, clad steel, duplex or duper duplex stainless steel, titanium, aluminum, nickel and Inconel alloy, etc, and Namag have the solid welding experience, especially in the special material Titanium, AL6XN, 904L, Inconel 625, Monel 400, etc.
Special Medium & Conditions
Namag has solid and rich experience in the following medium and conditions:
· Sour Medium Environment - NACE MR 0175 Metals for Sulfide Stress Cracking and Stress Corrosion Cracking Resistance in Sour Oilfield
Environments
· Hydrogen Induced Cracking (HIC) Test
· Sulfide Stress Cracking (SSC) Test
Export Ratio Classified by type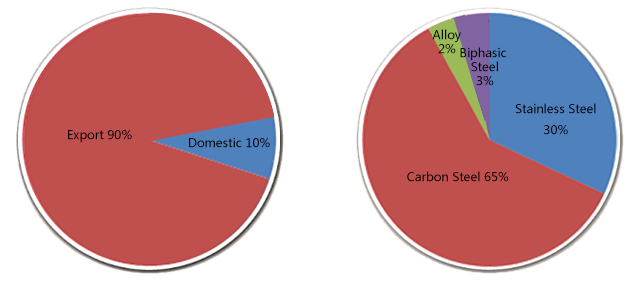 Materials Forms
Plate and Sheet
Tubes/Nozzles
Castings/Forges
Cladding
Beam/Profiles/Angle plates
Welding Processes
GTAW, Gas Tungsten Arc Welding
SMAW, Shielded Metal Arc Welding
GMAW, Gas Metal Arc Welding
FCAW, Flux Core Arc Welding
SAW, Submerged Arc Welding
PAW, Plasma Arc Welding
MIG, Metal Inert Gas (MIG) Welding
TIG, Tungsten Inert Gas (TIG) Welding
Industries
Agriculture
Chemical
Petrochemical
Desalination
Food
LNG
Mining
Oil and Gas
Pharmaceutical
Power Generation
Renewable Energy
Air Separation
Environment Protection